Diagnostic giant Randox Health partners with Revolut to improve awareness amongst the financial app's 6 million UK users.
Randox Health, the leading UK diagnostics and personalized health company is partnering with financial super-app Revolut to provide its 6 million customers with an exclusive 15% discount on all Randox Health testing programmes, promoting preventative healthcare amongst a wider range of people than ever.
Keeping track of your personal health isn't always easy to do with the pressures of work and social life in the way. However, with so much to enjoy in life, protecting your personal health is crucial. Randox Health provides personalised health insights to empower clients to make simple dietary and lifestyle changes giving them the power to own their health.
As the UK's largest healthcare diagnostics company, Randox Health's network of nationwide high-street clinics, which will total 20 by the end of 2022, will provide easy access for Revolut's 6 million users to a new range of diagnostic tests. These can identify early signs of vitamin deficiencies, hormone imbalances, allergies and key health concerns including heart, liver and kidney conditions and are priced from just £41.
Randox Health clinics also offer other comprehensive diagnostic programmes, including its 'EveryMan' and 'EveryWoman' 12-month programmes. These enable up to 150 data points linked to key health areas to be measured during the initial visit, the repeat test and consultation six months later, with a personalised health plan summarising results provided.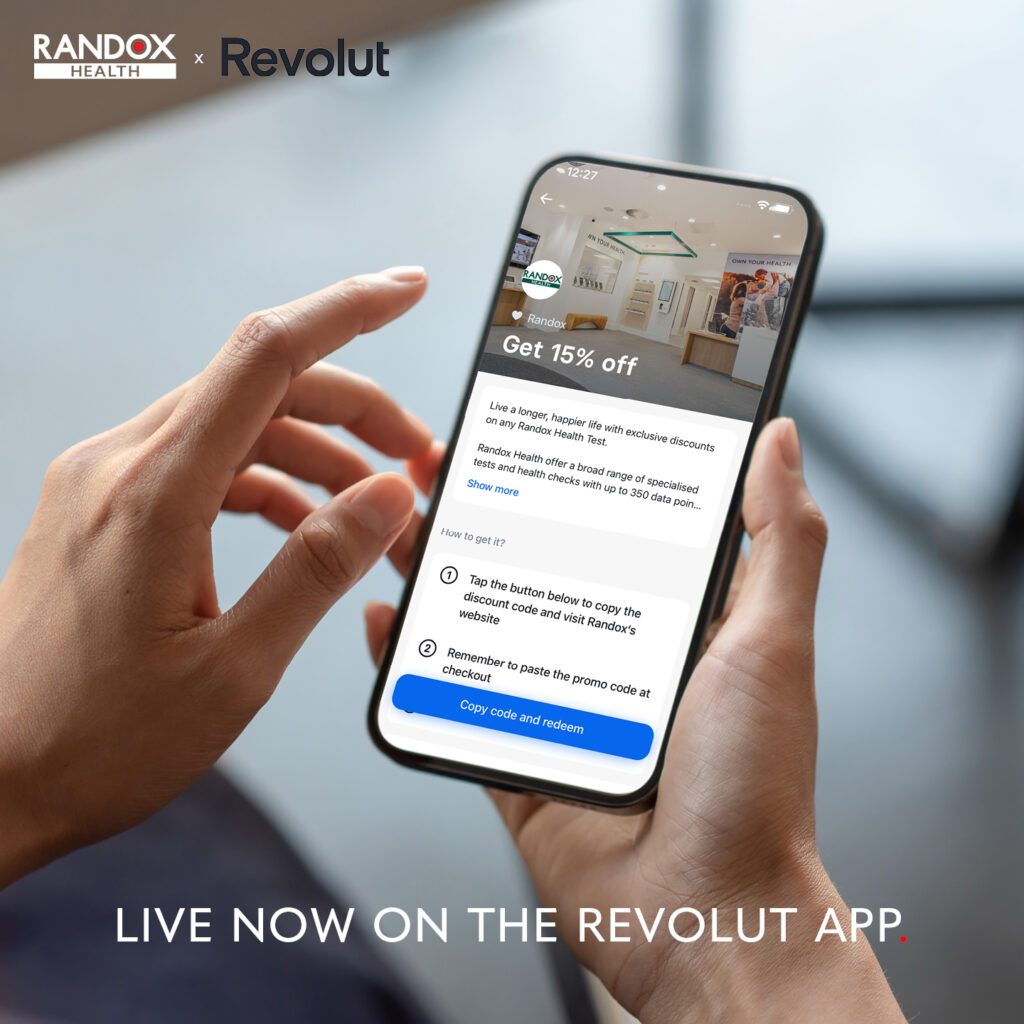 The discount is currently available to all Revolut customers via their Revolut app which is already revolutionising financial services available to consumers.
Alexander Rusak the Vice President of Sales at Randox Health says:
"Randox Health is proud to be partnering with Revolut with this exclusive discount. Having a regular review of your personalised health values is vital to understanding and maintaining good health. Access to regular health screening will allow clients to actively take control of their health to prevent or delay disease. Revolut will provide Randox Health with a platform to connect with a growing number of those who are interested in owning their health."
Jose Maria Barreiros Cardoso, Revolut's Key Partner Developer says:
"Revolut are excited about the new collaboration with Randox Health. We believe that financial and personal health should go hand in hand. Through this collaboration we wish to connect our customers and allow them the opportunity to invest in their personal health. Randox Health enables conversations for people to change how their view their personal health, exactly like how we have changed the way people approach their banking."