Imagine a world where you possess the knowledge to not only understand your current health status but also unlock the power to help improve and enhance your quality of life. Here, at Randox Health, we have good news! Through the lens of preventative health testing, we invite you on a transformative journey that empowers you with unrivalled insights into your health and modifiable risk factors associated with your unique biochemical fingerprint. Armed with this knowledge, you will gain the ability to make informed choices, proactively shape your lifestyle, and venture towards age-defying vitality, embracing a higher standard of well-being.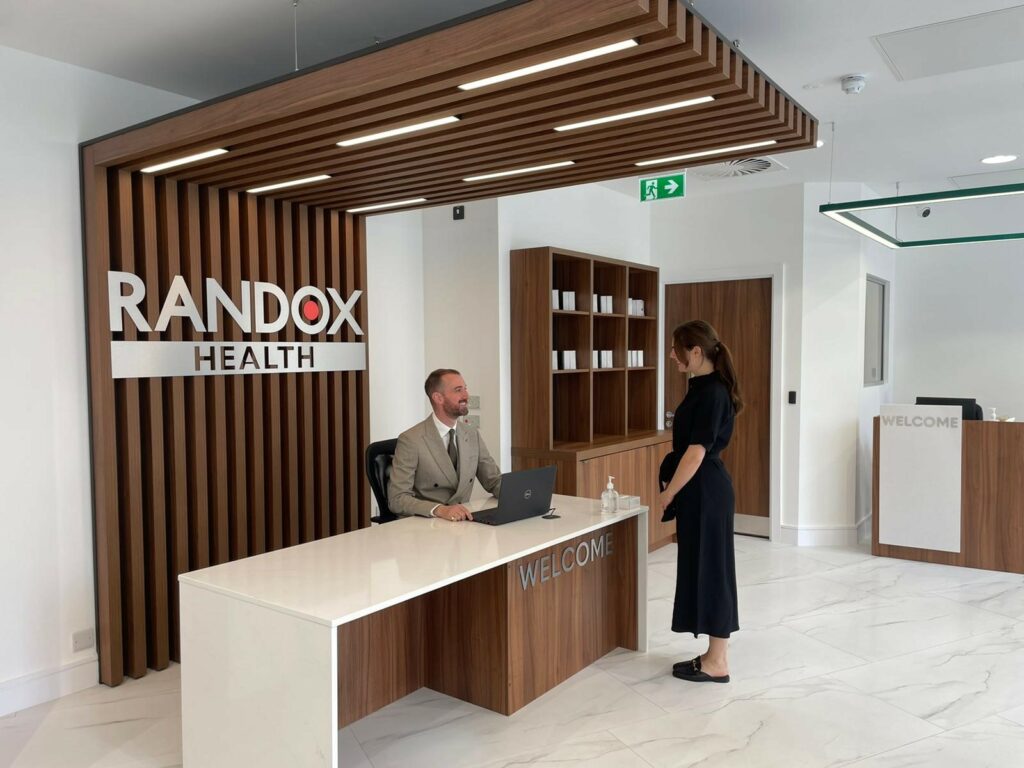 Noncommunicable Disease (NCDs) such as cardiovascular disease, respiratory lung disease, and diabetes, are considered by the World Health Organization (WHO) to be responsible for 70% of all deaths worldwide1. While this statistic seems daunting, it is exacerbated by the fact the WHO considered approximately 80% of these to be preventable conditions1.
In 2019, 22.5% of all deaths in the UK were considered avoidable2. At Randox Health, we recognise that everyone is unique, particularly in relation to health, where there is no 'one size fits all' risk stratification or diagnostic tool. For this reason, Randox Health covers all bases by testing for data points related to heart, liver, kidney, and thyroid health as well as a range of biochemical and genetic markers to provide you with a complete picture of your health, helping to identify the earliest signs of illness.
What is Preventative Health Testing?
In 2019, it was determined that 1 out of every 5 working-age adults was at risk of at least one underlying health condition2, which, in many cases, affects people's physical and mental health, as well as their livelihoods. Nonetheless, most of us continue with our day-to-day activities without giving much thought to potential health conditions, that is, until we become aware of them. In many cases, this is too late for effective action potentially resulting in a deterioration in one's quality of life or reduced life expectancy. Preventative health testing aims to identify the early signs of potential health deficits and conditions to allow you to make behavioural or lifestyle changes that can limit the severity of the condition or halt its progression altogether.
Let's look at cardiovascular disease (CVD) as an example. CVD is recognised as the leading cause of death worldwide, accounting for approximately 17.7 million deaths in 2019, making up 31% of deaths in that year4. CVD encompasses a range of conditions relating to the heart including myocardial infarction (heart attack) and stroke. Research has shown that an individual that displays elevated levels of small dense LDL  Cholesterol (sdLDL-C) has a 3-fold increased risk of suffering MI6.
This early identification of risk allows for treatment strategies to be implemented such as medication or changes in lifestyle, such as quitting smoking, reducing alcohol intake, increasing physical activity, improving diet, particularly increasing fibre intake, and reducing stress, to be implemented at a stage where prevention of disease is possible. This principle can be applied to a myriad of conditions like kidney damage or disease, diabetes, and neurodegenerative conditions such as Alzheimer's Disease, to name but a few.
What can Randox Health do for you?
Randox Health offer a range of packages tailored to individuals which provide real-time insights and unrivalled health data, helping you to better understand your health. The Everyman, Everywoman & Signature packages offer the most personalised preventative health screens in the UK & Ireland. Two advanced health tests over 12 months are included, alongside an easy-to-interpret test report and clinical consultations to equip you with the knowledge to help protect your future health. The Randox Health state-of-the-art facilities, located throughout the UK and Ireland, provide easy access for millions of people to a new range of preventative health packages, allowing people to take control of their health.
Everyman/Everywoman
Our simple blood test provides a wealth of data from which you can better understand your hormonal, heart, kidney, liver, thyroid, digestive and nutritional health. Testing up to 150 data points linked to these areas of health, the Everyman/Everywoman package provides you with real-time insights that empower you to take positive action to prevent illness and improve your quality of life.
Our 12-month plan offers two health checks per year, allowing for tracking of changes in your biochemical signature and providing enhanced data analysis.
Personalised health plan detailing results and next steps.
Optional health and wellness discussion or GP appointment.
Results within 2-5 working days by post and online portal.
The Signature Package
Our elite Signature package tests up to 350 data points related to key health areas to achieve a comprehensive data set. Using algorithms, this data can be used to provide an indication of susceptibility to a wide range of diseases and conditions.
2 full body health checks 6 months apart to help track your health data and support preventative well-being.
2 private GP consultations to review results and next steps.
Access to genetic testing if required to assess potential health risks.
Home bowel health test provided.
Resting electrocardiogram (ECG) performed.
Biometric analysis (weight, blood pressure, pulse etc.)
Private prescriptions and referrals if required.
Reference List:
1. WHO. Mortality and global health estimates. www.who.int. Published 2016. https://www.who.int/data/gho/data/themes/mortality-and-global-health-estimatesPrice M. Avoidable mortality in the UK – Office for National Statistics. www.ons.gov.uk. Published February 26, 2021. https://www.ons.gov.uk/peoplepopulationandcommunity/healthandsocialcare/causesofdeath/bulletins/avoidablemortalityinenglandandwales/2019

2. Office for Health Improvement & Disparities. Preventing illness and improving health for all: a review of the NHS Health Check programme and recommendations. GOV.UK. Published December 9, 2021. https://www.gov.uk/government/publications/nhs-health-check-programme-review/preventing-illness-and-improving-health-for-all-a-review-of-the-nhs-health-check-programme-and-recommendations

3. World Health Organization. Cardiovascular diseases. World Health Organization. Published June 11, 2021. https://www.who.int/news-room/fact-sheets/detail/cardiovascular-diseases-(cvds)

4. Mayo Clinic. Heart attack – Symptoms and causes. Mayo Clinic. Published May 21, 2022. https://www.mayoclinic.org/diseases-conditions/heart-attack/symptoms-causes/syc-20373106

5. Austin MA. Low-Density Lipoprotein Subclass Patterns and Risk of Myocardial Infarction. JAMA: The Journal of the American Medical Association. 1988;260(13):1917. doi:https://doi.org/10.1001/jama.1988.03410130125037

6. Lui M. LDL Oxidation and LDL Particle Size in the Development of Atheros. PhD Thesis. 2022. Accessed July 11, 2023. https://helda.helsinki.fi/server/api/core/bitstreams/f2e4d0d9-4e26-4e2f-9adf-6e83ce6af1cd/content

7. Public Health England. Health matters: Prevention – a Life Course Approach. GOV.UK. Published May 23, 2019. https://www.gov.uk/government/publications/health-matters-life-course-approach-to-prevention/health-matters-prevention-a-life-course-approach