If you find yourself suffering troublesome thoughts regarding your health, you may be experiencing health anxiety. After the recent pandemic, the Office of National Statistics reported over a third of adults in the UK felt that their overall wellbeing had been affected with many feeling isolated and vulnerable.
Health anxiety is described by the NHS as involving either the fear that one has a serious physical illness or the belief that one will develop a serious physical illness. Whilst it is normal to worry about your health periodically, dealing with health anxiety  can feel daunting.
We have compiled four ways that can help you to deal with your health anxiety:
Maintain a healthy, balanced lifestyle
 Taking your wellbeing into your own hands can greatly reassure you about your health. A well-balanced diet and regular exercise can improve your health both physically and mentally. NHS outline that frequent exercise is proven to lower your risk of diabetes, heart disease and stroke, dementia, and increase life expectancy.
Sleep is also a part of our lifestyle that can be neglected or affected when feeling anxious. Mental Health UK estimate that 1 in 5 people in the UK aren't getting enough sleep. This can impact us in a variety of ways including poor focus and concentration, difficulty dealing with stress, and making us more susceptible to colds and illness.
Try making a conscious effort to eat well and get 7-9 hours of sleep per day. It may surprise you how a short walk in fresh air can help to alleviate some of your anxiety.
Preventative Testing
 Sickness is often dealt with a management approach rather than that of a preventative. Many can feel anxiety about specific illnesses or knowing whether they are at risk of illness. Randox Health provide comprehensive full body MOT's such as the Everyman | Everywoman where over 150 data points are measured linked to hormone, heart, nutritional health and more. With repeat testing after 6 months, you can monitor for changes and improvements in your health to put your mind at ease.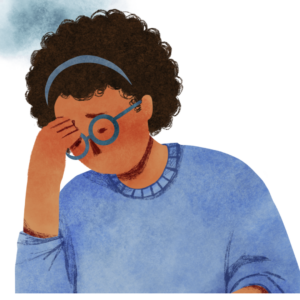 Regular health checks allow you to take control of your health, providing real-time insights on your current and future health. Keeping track of your health data can empowering you to make simple lifestyle and dietary changes to prevent future illness.
Tackle your worries
 It is normal to occasionally feel anxious about a trip to a health setting. If you're feeling anxious or apprehensive about your health, why not try calling into one of our clinics to speak with the team? Randox Health staff are happy to talk you through what an appointment may entail and show you what our clinics look like. We allow enough time during each appointment for questions or queries, and the follow-up consultation will provide you with an opportunity to discuss your results and simple steps that you can do to take control of your current and future health.
 Understanding your family history
 Health issues that are prevalent in a first-degree family member can not only cause worry and concern for them but also about yourself. We have broken down more information on how genes can impact your health here. For example, did you know that if a direct family member suffers with Coeliac Disease the risk of having it increases from 1 in 100 to 1 in 10?
Gene People UK estimate that more than 2.4 million children and adults are living with a genetic condition. At Randox Health we offer a range of genetic testing, from Coeliac Disease, and Lactose Intolerance, to a Core Cancer Panel and Hereditary Cardiac Risk.
Genetic testing at Randox Health can help to evaluate your health risk. Speak to a genetic councillor who can discuss the details of the test, the impact for yourself and your family, and how the results can be used.